FOOD & WINE

WINE & SPIRITS
A note from our Beverage Curator
At Castle Hill, we approach our drink menus with the same effort and thoughtfulness that our chefs use to craft their menus; each selection is tailored exclusively to our food for a seamless sensory experience. With every menu change, which can happen as often as every few weeks, we take the time to pair each dish with a different wine by the glass. I meet with Chef Karsten and his team, and we sit down with his dishes and 100 opened bottles of wine. We taste everything to carefully select the best pours to pair.
But we don't limit ourselves to wine at our luxury Newport restaurant. We explore different beers and spirits, which have led to beer and cheese appetizers, sake dinners, and cocktail pairings.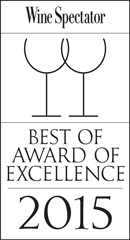 The most exciting part about Castle Hill's beverage program is the opportunity for discovery. Rather than write a list dominated by big labels, we select pairings that might include obscure grapes or small batches from local producers that guests otherwise could have been hesitant to try. If they trust in us, then we can guarantee a unique experience not to be had elsewhere in the world.
Cheers,
Shawn Westhoven
Beverage Curator
FEATURED COCKTAILS
OCTOBER FASHIONED
A twist on an "old fashioned" using Rye Whiskey, a beautiful French dry curacao (orange liqeur) and an allspice dram to bring out fall flavors
STORMY CIDER
A New-England riff on the Dark & Stormy, including local fresh apple cider to the traditional recipe
CRANBERRY-SPIKED CIDER
A shandy-type cocktail using Strongbow Gold cider & Deep Eddy Cranberry Vodka
HARBOR CASK
Here we take locally made Thomas Tew Rum, and age it in the Mansion bar in an oak cask with Cointreau, vermouth, and bitters. It comes out tasting almost like a perfect Manhattan when all of the flavors come together.
Castle Hill Connoisseur Series
We've recently launched of our new Castle Hill Connoisseur Series, featuring two limited-availability, unique, world-renowned wines that have been hand-selected by our Director of Food and Beverage, Anthony Boi. Here we will present some of the best the world has to offer, in the warmth & charm of the Castle Hill Mansion Bar, one of the best restaurants in Newport. $49 Per Person.
Current wine selections: "Caymus & Special Select"
Caymus Cabernet Sauvignon 2013 - Napa Valley, CA (3oz)
Caymus "Special Selection" Cabernet Sauvignon 2012 - Napa Valley, CA (3oz)